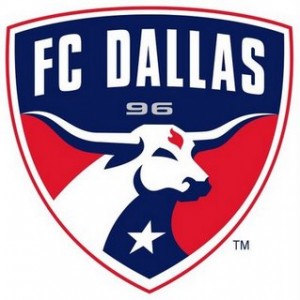 The rivalry between Houston and Dallas isn't anything new. For decades these two cities have sniped at each other over a variety of topics that both either feel important to be best at, or deny being worst at. All-in-all some pretty basic civic rivalry.
In 2005 Houston joined Dallas in the MLS when the San Jose Earthquakes shook themselves over to the gulf changing their name to the Dynamo in the process (I still like the originally planned name of "Houston 1836," but apparently it was offensive to Hispanic fans).
It was always figured that FC Dallas and the Dynamo would have a pretty good rivalry, but Dallas already had been butting heads with the Chicago Fire since the beginning of the MLS and fans were pretty invested in that. Top that with a hatred for the Colorado Rapids that started up around the same time that the Dynamo hit the stage and the Dallas/Houston thing just got rather marginalized.
Flash forward a couple of years. Houston had already come out really strong by winning the MLS Cup in their inaugural year of 2006 and followed up with a repeat in 2007 while FC Dallas just couldn't get their act together.
From a fan's perspective, things were just nasty. At a couple of the FCD/Dynamo matches I attended at Pizza Hut Park (Dallas' home turf), things were downright nasty. I watched in awe as Houston fans paraded up and down the concourse, ripped out seats in their designated section and even, after one match, attacked a FCD fan. Hell, even me and my friends were hassled by a couple of Houston fans in what has got to be one of the funniest war of words I've ever seen (more on that at a later date).
The 2010 season, however, changed everything. FC Dallas started out by winning the Texas Derby (which claimed El Capitán) and then pushed their way to the MLS Cup Final while Houston did not even qualify for the playoffs.
To say this didn't sit right with the Dynamo organization and their fans is an understatement.
At the beginning of the 2011 season, this lovely billboard was put up on the tollway leading to Pizza Hut Park. It annoyed the hell out of me, but I thought it was pretty funny.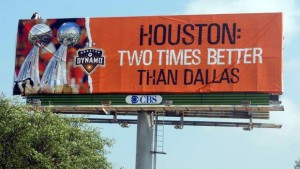 When it didn't get the reaction Houston was looking for, they followed up with this gem of a commercial.
That's what finally got people pissed off. We are allowed to joke about things like our home stadium being way up in Oklahoma, but we don't need the stinkin' Dynamo making cracks about it.
Dallas quickly retaliated by putting up this banner at Robertson Stadium (the Dynamo's home turf). Funny right?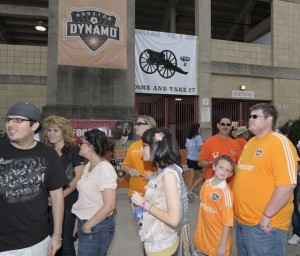 Dallas then turned around and got the San Jose Earthquakes involved with this little stunt
All of this "frivolity" leads up to Dallas taking on Houston at Houston on Saturday, May 28. FCD will be coming off a Wednesday away game in Seattle, and Houston will be coming off a Wednesday away game in LA against the Galaxy.
Needless to say, both teams will be sufficiently riled up for this match. Who can say what will happen out there, but it'll be a doozy of a match with FC Dallas leading the Dynamo going into the match by four points (that doesn't include the result of the matches that both teams have tonight).
Houston who?