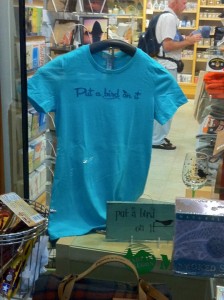 Because it is one of the most touted places in the United States for somone of my proclivities, I was elated when faced with the opportunity to flee the Texas heat last week and nestle into the cool green lushness of the Pacific Northwest.
What I knew about Portland was what I'd seen on television and heard from friends who absolutely swore by it: a hipster mecca full of vintage clothing stores, pinball machines, record stores and coffee shops. When Fred Armisen and Carrie Brownstein's show Portlandia came along, my view was cemented.
Here's the thing, though: Portlandia's cliches and generalizations aren't that far off base.
The reason for my trip was two-fold: attend the girlfriend's mom's wedding (that's a mouthful) and to visit and spend some quality time with the girlfriend's sister who is a bike messenger and musician in Portland (how awesome is that?).
After flying into the Portland airport (an interesting descent if you've never seen massive mountains) we met up with said sister, grabbed our rental car and started out on the highway to the Oregon coastal town of Manzanita where the wedding and activities were to take place.
Manzanita and surrounding townships were amazing. The locals were incredibly nice and the locally-sourced food was amazing. Love you some Tilamook cheese? We freakin' drove through Tilamook! At an amazing dinner at the Rising Star Cafe in Wheeler, our newly befriended innkeeper told us where most of the veggies in our salads came from. I don't mean "That arugula was probably grown near Nehalem," but freakin' "Those cucumbers were probably grown by Bob at the top of this hill." Wow. Just wow.
On the coast we did touristy things. We drove into Seaside and played video games, pinball and skee ball at the giant arcade there, we drove past the incredible rocks off of Cannon Beach which are quite memorable from the movie Goonies and we made fires on the beach (in a roast marshmallows way, not a 'set fire to everything' way). Coastal Oregon was quaint and awesome. While everyone back in Dallas was melting into the pavement, I was wandering around in jeans and a sweatshirt.
After a few days on the coast we made our way back into the Rose City for some "real" Portland time.
My first impression? Portland drivers are freakin' insane. It really didn't help that I was given a Chevy tank as a rental car when I'm used to driving a Prius, but many of these folks are downright insane. My second impression was sheer awe at the sight of actual bike lanes on the streets. For someone who has been living in the car-centric state of Texas for the past twenty years, it almost brought a tear to my eye.
Now down to the good stuff.
Indeed, Portland is a mecca of everything I mentioned before. We wandered around the downtown area for a day and a half building up our record collection with some of the most amazing finds ever. Shopping for records in Portland is religion and we had descended into one of the lower levels of the temple. Albums that were on the "I would like to own this record, but will probably never even see a copy" list were knocked out left and right, and almost all for prices that really made me feel like I was stealing from the shop owner. When all was said and done, we had about 45 pounds of vinyl and sleeves packed into my amazing Timbuk2 messenger bag and strapped to my back. That was a fun one to explain to airport security when we were leaving.
I loved Portland. Hell, I can't wait to get back. Despite the assault to my allergies and the fact that the sun is only a sometimes visitor, it's a pretty cool damn town to hang out in. And, contrary to the generalization, most people have jobs. My one big regret was not hitting up Voodoo Doughnuts. Sure, we walked by the original location several times, but it was closed for remodelling/exorcism.
I guess I've got yet another thing to look forward to on my next trip…